11th Jun | Stand Design
Take a Look at Some of Our Exhibition Display Stands
Exhibition Plinths have designed and created a number of high quality exhibition display stands, perfect for things like business and retail exhibitions, museum displays, trophy displays and art galleries.
We have a huge range of stands, plinths and showcases that come as standard, or can be customised with colour, lighting and graphics of your choice to follow the theme of your display.
White Display Stand
This white exhibition display stand is 100cm high with a glass display case 50 x 50 x 50 (cm).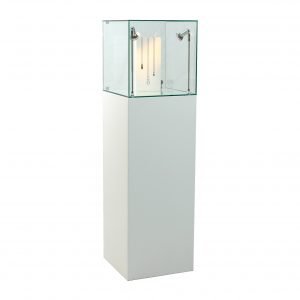 The glass is UV bonded for guaranteed strength with stainless steel hinges and a door lock – perfect for antique and jewellery display.
Lighting is not included as standard, but on request, a battery powered lighting system can be stored inside the display stands. With the lighting turned on, the battery life for the lights will last around 49 hours.
The spray finish is high quality polyurethane paint and we also offer the option of waterproof MDF.
If you are hiring an exhibition display stand, the standard colours we offer are black and white. We can also add branding, graphics and logos to the plinth from £15 per side.
We request that those hiring do not to apply their own graphics to the stands to avoid paint damage. We can apply and remove vinyls in-house without damaging the paint so that the stands remain of a high quality.
Custom colours for those who wish to purchase display cabinets are:
Postbox Red
Mint Green
Cream
Royal Blue
Orange
iPad Display
A great way of getting your target audience engaged in your products/website/apps is to get them playing around on an iPad!
Exhibition Plinths offer a range of iPad display stands and podiums which work wonders for retailers.
This curved iPad floor stand comes with a durable silver grey steel enclosure and a matching floor stand finished with black high gloss acrylic fascia.
It measures 370mm in diameter and 1210mm in height, weighing at 9.2kg.
The stand is able to hold the iPad 2,3 and 4, whilst the home button allows guided access to iOS 6 and above. The camera on the iPad is left exposed to allow use whilst secured in the stand.
The face in which the iPad itself is held can rotate 360 degrees and there is an easy-use push release button for the iPad which comes with a security lock.
The back, shaft and base of the stand are all made from metal, which can be sprayed in various colours on request, allowing your iPad to blend in with the rest of your display.
If you want to add a company logo or image, graphics can be added to the front of the iPad holder.
These iPad display stands are fully reliable and will keep your iPads safe and secure.
Bespoke Designs
As well as our standard range of exhibition display stand designs, we have build a number of bespoke stands for a few well-known companies…
Here's a stand we designed and built for Speedo:
We received the initial design brief from S&X Media and got straight to work on producing numerous different 3D designs. This allowed Speedo to see the different design options available for a podium/lectern that could be made bespoke to their requirements.
After coming up with a number of different designs; some blue, some white and some black, the finished product was made from spray finished MDF in black satin and 8mm toughened glass.
We also developed a display stand for Waitrose:
Waitrose requested a stand that had a slanted surface which would make it easy for customers to read information printed on the top.
This is the final result!
If you're interested in hiring or buying exhibition display stands from Exhibition Plinths, request a quote via the tab on the right hand side of this page.
We also have an online chat system for you to talk to us directly!
Call now on 01934 708 717 or fill in a form below!
Look at more exhibition display stands here!
Comments are closed.