Need Glass Display Cabinets For Your Next Exhibition?
Call Us Now On 01934 708 717
Or Fill Out This Simple Form


Or Find All Of Our Details Below
Check Out Our Testimonial
Lisa Jagger from Justice Jewellery says…
"Thank you for ensuring that the plinths got to the venue on time, they looked great. This was the first event we have done of this kind, it was a great success and would be looking to other events in the future."
What Size Cases Are Available?
Our Range of Glass Display Cabinets
Glass Display Cabinet Hire Enquiry Form
Know exactly what you want? Fill in this form and we'll send you a quote.
Incredibly Simple Purchase
All Of Our Glass Display Cabinets Have The Option Of The Following Features:
Security – Lockable Glass Doors
The doors, as you can see in the image are at the opposite side to the lights, on the glass display cabinet.
If you are having internal storage on your plinth as a customisable option, the door to the plinth will also be lockable.
The keys for your order will be keyed alike so the same keys will fit the cabinets, however they will be individually keyed as a group. This means that if other companies or individuals have puchased our cabinets your keys will not be the same as theirs.
Minimalist Fixings
Smooth and incredibly small stainless steel swing hinges are just 20mm in diameter ensure that the cabinet retains it's contemporary look.
The glass is UV Bonded, which means that there are no aluminium frames around the edges of the cabinets.
See an image of the cabinet from the back to see the lock and the hinges on the cabinet itself.
 What Lighting Is Available?
The lighting that we provide as standard are polished chrome stalk lighting with LED bulbs.
We have a range of light spectrum bulbs available depending on the item(s) you are displaying in the cabinets and how to best enhance them for customer viewing.
Our regular bulbs are 3000K which best enhances gold jewellery.
We have high power LED bulbs with a cooler light at 6000K which is best for silver and diamond jewellery.
Battery Powered Lighting System
If you would like a cabinet which you can place in the middle of a room without wires for lighting then battery powered lighting is the best option for you.
The sealed lead acid batteries provide 49 hours of 'on' time. The benefit of the battery powered lighting is that all the cables and wires are stored inside the plinth and they can be placed anywhere in a room as there needs to be no power consideration.
We can provide chargers for the batteries if you purchase the battery powered system, or extra long life batteries if you need more than 49 hours.
What Customising Options Are Available?
As our cabinets are hand-made in our workshops in Somerset, we have a wide range of customisable options available to us and therefore our customers.
Internal Storage On The Plinth
Adjustable Interior Shelving
Drawers On The Plinth
Lockable Wheels For Easy Manoeuvrability
Graphics and Branding
If you have specific requests about the functionality you would like from your glass display case and display plinth, we would be delighted to help you with your request.
The Cabinets In Detail
Clicking the cabinet size below, you would like will take you to our online shop where you can see the
external and internal sizes of the cabinets, including the material specifications.
Can I Purchase A Different Size?
Currently our standard range are the glass display cabinets mentioned on this page.
If you would like a specific size we would be more than happy to assist you by filling in our bespoke custom display form which we can make any shape or size glass display case for customer purchase. Our lead times are 4 weeks for bespoke creations in which you can request whatever size or shape cabinets you need.
Vinyl Wraps, Logos and Graphics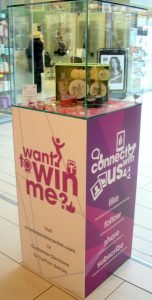 If you need branding applied to your plinths, we have a variety of options available.
We have over 70 colours of vinyl in stock which we can contour cut and apply to your plinths.
If you require a full vinyl wrap, please attach your artwork for quotation (as per image on the right)
Who has purchased from you previously?
Apple, The Royal Mint and Selfridges are three of the many happy returning clients we have rented and sold to to in the past. For a more comprehensive list please see our Client List 
Delivery
Standard delivery  
The glass display cases and plinths will be delivered to your location on a Thursday between 12 noon and 5pm.
9am Delivery 
We can guarantee that our team will be at your delivery destination by 9am.
5pm to 8pm Collection
Your display cases can be collected between 5pm and 8pm by our evening team.
Weekend or out of hours (pre-9am or post-8pm) 
We offer a weekend and out of hours courier service for your event if storage space is not available.