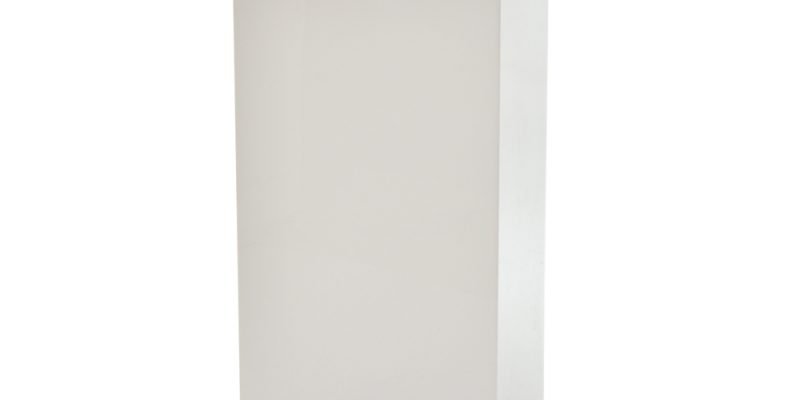 10th Apr | "How To" Information
You have probably got here via searching "How to make a plinth" into Google. As the UK's Premier Plinth makers, we think we know all there is to know on how to make a plinth. Here at the workshop of Exhibition Plinths we've been crafting high quality display plinths for over five years, perfecting the art of plinth making along the way!
Its always good to start with a good base product, we like to use Medite MDF or Medium Density Fibre Board as it is known, there are many brands on the market, but we prefer medite premier as it is stable, flat and great for deep routing.  This is really important for the way in which we construct our plinths as we want them to be long lasting and durable.
Cutting the wood to make a plinth
Our workshop is fully kitted out with Felder woodworking machinery. We use two different pieces of equipment when cutting the wood for our plinths, depending on the customer requirements.
We have a Felder panel saw K700 Professional with sliding table: this is perfect for cutting plinths accurately. If we are making more complex shapes, we also have a Felder CNC router. Both are perfect for making good quality plinths. In a home environment you would need to at least use a circular saw to get enough accuracy, for the sides all to be the same and for the lid to fit.
Most people, when constructing plinths at home, will use what we call a 'butt joint'. This is where the edges of the board are glued together edge to edge. The problem with doing this when using MDF is that it is made from layers of fibres. The top and bottom surface are flat, strong and take paint well, but if you try and paint the edges, you will find that it is too soft and fluffy for a neat job. For this reason amongst others, we use a mitre joint and recommend you do the same thing.
How do you create a lock mitre joint?
Using a Lock Mitre Joint when making a plinth has lots of advantages. There is then no awkward fluffy edges to finish and no movement after they have been made. You also have a location when trying to assemble the plinth. It also increases the gluing area making it much stronger than a standard mitre joint.
A lock mitre joint is made using a special router bit or spindle moulder cutter. The key to success is all in the setting up of the cutter. This type of cutter has to be used in a fixed device, either a router table or spindle moulder. We use a Felder F700 Spindle moulder. This is a heavy duty and highly accurate machine that is perfect for this type of work. To create the lock mitre in a L shape, you feed one piece past the cutter horizontally and the second piece vertically.
Once you have all the pieces including the top of the plinth machined with the lock mitre, you can prepare to glue all the piece together. To make sure everything lines up it is important to work fast, have a square handy and lots of sash clamps or bessey K-body clamps as we use in our workshops.
Gluing a Plinth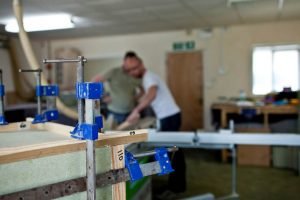 We like to use Titebond III. This is not the cheapest glue but we like it here at Exhibition Plinths as it is one of the strongest wood glues and has a small amount of flexibility. Once glue has been applied to all the joints, you can start assembling 1 side at a time. Once all the sides are in place you can start to clamp the sides together. It's best to start from the bottom up.
We use clamping sticks when making the plinths. This not only gives an even gluing result, but also prevents damage from focused pressure on the plinth.
As you work your way up the plinth, check for squareness. This is really important and needs to be correct. By moving the clamps across the long diagonal, you can make adjustments as necessary to make sure the plinth is perfectly square.
Don't leave the top set of clamps until you have the top glued and in place. At this point, press the top into position by hand and then use a further set of sash clamps to press everything together. Even though we use Titebond III which sets within 10 minutes, we like to leave the clamps in place on the plinth for around 30 minutes.
Sanding and preparing a plinth for painting
Every step to making a plinth is important but this really is the most important step to get right!
We spray finish all our plinths, but you will more than likely be hand painting or roller finishing them. To get the best possible finish you have to spray them, but the preparation and sanding of the plinth is the same whichever method you use.
Start by using a 180 grid sand paper on a dual action sander, this can be used to remove any glue that has been forced out of the edges of the plinth. We also go over the whole plinth with all the grades as this removes any grain or pattern that may be on the faces of the MDF.  Any imperfections within the MDF can then be filled and rubbed down to give a perfectly flat plinth.
With our plinth we like to add a 3mm radius to the edges. This takes away the sharpness of the edges making sure you don't cut yourself or anyone at an exhibition. To create the radius, use a rounded over bit in a handheld router. We like to use the Dewalt 621 EK. This is a great router based on an old Elu model which has great balance for working the edges of plinths.
The next step to making a plinth is to go over the whole plinth again with a 320 grit sand paper and then again with the dual action sander. As I'm sure you will realise, our sanders are working all day long. We recommend the Festool 150 Rotex sander but as this is MDF, it is highly recommended that you use an MDF rated Extractor with any sanding equipment. For this we use the latest MDF rated Festool CTM 44. This is one of the few extractors that is suitable for working with MDF.
Spraying and Painting a Plinth
At this stage, we start the plinth spraying process. The first step is spraying a base coat sealer to seal the MDF. We use a large screw compressor which feeds an air fed mask and top quality Sata Jet car refinished spray gun. This we have found to give the best possible finish to the plinths. In a home workshop you are most likely to hand roll the plinths. We would suggest you use a fine gloss roller to give the best finish to your plinth.
Here at Exhibition Plinths, this is only the beginning of the spraying process. We allow the base coat to dry and then take it back to the workshop for preparation before the top coat is applied. This involves sanding the plinth again. At this stage, with a 500 grit sand paper.
If we pick up any further blemishes within the paintwork (which tend to show up once painted) we would again fill them and make perfect. Our process then takes the plinth back to the paint preparation area which they are first vacuumed and then blown off with an air nozzle, before being thoroughly cleaned with a tack rag. This may seem like a lot of work just to make a plinth, but they are all very important steps to creating the perfect plinth.
Once all the above has been completed, it is time for the skills of our sprayer to apply the top coat of paint. We have pretty much every colour available and every finish from super flat matte to wet look gloss and every sheen level in between. Here at Exhibition Plinths we are also able to spray metallics and add such effects as marbling and stone effect plinths.
We hope you have found this article useful and hopefully you now know how to make a plinth. If you'd like our help in your quest to make the perfect plinth, please do get in contact using the contact us links.
You can also call us directly on 01934 708 717.
Comments are closed.