10th Jul | Stand Design
Our Display Solutions…
Are you a representative of a company or business looking for display solutions for sales or exhibition displays?
www.ExhibitionPlinths.co.uk are professional designers and manufacturers of high quality display equipment for all forms of retail and exhibitions such as jewellers, museums, art galleries and more.
We design our display solutions as standard or they can be altered and customised specifically to meet your requirements. We also design bespoke products on request.
Our products are sprayed rather than hand painted, giving them a much smoother, consistent finish.
Got a short deadline? We can meet it.
Need your products to be delivered early to an event with immaculate looking displays? We can do it.
We have designed and created products for companies of all sizes, including Apple, itv and The Royal Mint, and guarantee we can meet your requirements.
Unique Branding
Yep. Branding is an option.
We offer vinyl wraps and logos to give your display solutions that extra professional touch for your target audience to see.
There is also a choice of colours available on request. Standard designs come in black or white, but we can also spray your products:
Postbox Red
Mint Green
Cream
Royal Blue
Orange
What Solutions Fit Your Display?
We have a wide range of products in stock, ranging from plinths and showcases to acrylic display cabinets and iPad displays. Take a look at some of our display solutions…
White Display Plinths with Glass Display Case
This particular plinth works really well with small, delicate-looking products such as jewellery or antiques.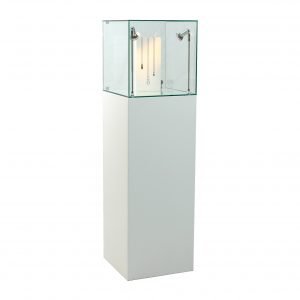 The display stand stands 100cm high with a 50cm x 50cm x 50cm glass display case on top. The hinges are made from stainless steel and the glass is UV bonded to guarantee high strength.
As a standard product, the lighting is not included but a battery powered lighting system can be fitted to be stored inside the plinth on request.
Storing the electricity inside the plinth eradicates the need for loose wires, which is very handy when being displayed at events, exhibitions and stores. The battery for the lighting will last around 49 hours of being turned on.
To finish the plinth, it will be sprayed with high quality polyurethane paint. We also offer waterproof MDF.
Curved iPad Stands
Now… a great way to get your target audience engaging in your products and services is to give them an iPad to play with!
For this reason, we offer a number of iPad display designs. One of them is this curved iPad floor stand. It comes with a strong silver-grey steel enclosure with a matching floor stand, finished with black high gloss acrylic fascia.
It stands at 121cm in height and 370mm in diameter, with a total weight of 9.2kg. It hold the iPad 2,3 and 4 and gives easy access to the iPad's home button for iOS 6 and upwards. The camera is also left exposed for easy use.
The iPad stand allows the iPad to be rotated 360 degrees and has an easy-to-use push-release button with a security lock. These, too are available to be sprayed in colours on request and can have logos and graphics added.
Banner Stands
Another one of our display solutions is our personalised banner stands.
These banner stands are designed to be quick and easy to use, with a removable cassette that is perfect for applications where the message changes on a regular basis.
They come with anti-slip feet for sturdiness and integral pole storage. The cartridge is in-out, so it is easy to load and release. The pole is telescopic and it's easy to change the graphics quickly.
These banner stands are anodised silver and are available in 800mm or 1000mm widths.
Contact Us To Solve Your Display Problems
Call us now for a free bespoke design! We work hard to meet the demands of companies and organisations on a daily basis.
Call now on 01278 588 469.
You can request a quote in the tab on the right hand side of this page or talk to us directly using our online chat system.
Comments are closed.